Successful family-run company managed by the 3rd generation
We, the company Werfring, are one of the most renowned transport and logistics companies in Europe. At our company, a traditional handshake meets technical progress.
Since as early as 1965, our family-run business, which is now managed by the 3rd generation, has stood for reliability, safety and quality in the areas of transport, logistics, cleaning and tank wagons. In the process, preserving our corporate culture—the source of creativity, quality and trust—is a particular concern of ours.
Our company has grown constantly over the years, both with regard to its people and its strategy. This growth has been aided by our idea of progress and the individual solutions for our customers. These are a key part of our strong corporate DNA. Thinking in solutions. Solutions that are not only devised for the short term but also support your long-term success.
Because you—as our customers with your individual requirements—are the focus of our activities.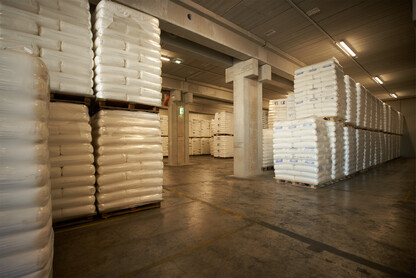 Every year, the vehicles of the Werfring fleet travel 12 million kilometres, which equates to 16,000 trips per year.
10,500 m² of warehouse facilities for normal goods and 2,500 m² of warehouse facilities for hazardous goods (some of the very few in Austria).
0
Cleaning sessions per year
In our own tank washing facility in Mannswörth, we carry out around 400 cleaning sessions per week.
Over the last sixty years, we have grown to become a tall, strong tree with firm roots. The following milestones in our company's history have fundamentally influenced this growth:
1965
Establishment of company by Johann and Elisabeth Werfring
1975
Extension of product portfolio to include the Transport section and expansion of the fleet
1984
Handover of the company management to Johann and Anna Werfring
1993
Opening of the site in Schwechat/Mannswörth and thus the departments of Logistics, Tank Wagons and Cleaning
2015
The couple's sons Marc and Hans-Joachim Werfring become members of the company management
2021
Conversion of the site in Mannswörth, modernisation of the cleaning facility, expansion of the warehouses by 4,500 square metres with fully automatic bag-slitting system and transfer booths
2022
New build of a 3,600 square-metre wagon repair hall for inspections, new build of a water treatment facility in order to recycle waste from the cleaning process in a sustainable manner, doubling of the office space and the social rooms, setting up of a PV system
Corporate values/guiding principles
Every day, we do our best to comply with our guiding principles so that they become lived practice for our employees and thus result in lasting success.
We act in a sustainable and responsible manner towards the environment and society.
You can rely on us. Trust in our reliability and quality is the basis for long-standing relationships and satisfied customers.
We are a family-run business with solid earning capacity and financial strength. Profitability is the basis for a secure future. We invest in success.
The diversity of our employees is our strength and the basis for our success.
We are one of the best in our sector and are competitive in all comparable processes and services.
At our company, enjoyment in our own performance is the most important prerequisite for our success together. Enjoyment releases energies and generates creativity and enthusiasm.
Let's conserve resources together! When old traditions meet technical progress, one thing must never be neglected: economic sustainability.
As a 3rd generation family business, this topic is particularly close to our hearts. So that we can work as green as possible—for you, your families and the environment—we have already implemented the following measures:
Power supply through photovoltaic system
Our site in Mannswörth is entirely self-sufficient in electricity thanks to the installation of a photovoltaic system (generating 980,000kWh).
Water treatment plant
Fresh water savings, valuable raw material recovery and thermal energy recovery via sewage sludge are just a few of the advantages of our water treatment plant.
Modern gas flaring system
Our modern gas flaring system enables us to guarantee an environmentally friendly combustion process for the gases to be purified. The gas flare system is used to clean tank wagons.
Economically sustainable transport
The use of telematics systems enables optimal route planning and thus a reduction in the number of empty kilometres to be driven to a minimum.
ISO 9001, ISO 14001 and ISO 45001 certified
Fuel saving through permanent driver training and further education of our employees
Vehicle fleet is exclusively state of the art
Steam reuse: Refinery product
The process steam of the refinery in Schwechat is a waste product of the refinery process. This is used for steaming in the cleaning process, as well as for the entire heat supply of the Mannswörth branch. This steam normally has to be generated with high energy input.
Together stronger. We inspire our customers every day through teamwork on an equal basis and always with a smile on our face. At our company, there is the right contact person for every one of your requests.